Practicing and enforcing good cybersecurity is hard – and will only become more difficult with the proliferation of Internet of Things (IoT), cloud computing and fuzzy network perimeters. To manage these challenges, more organizations are internally enhancing or designing a security operations center (SOC), or outsourcing it to a managed security service provider (MSSP).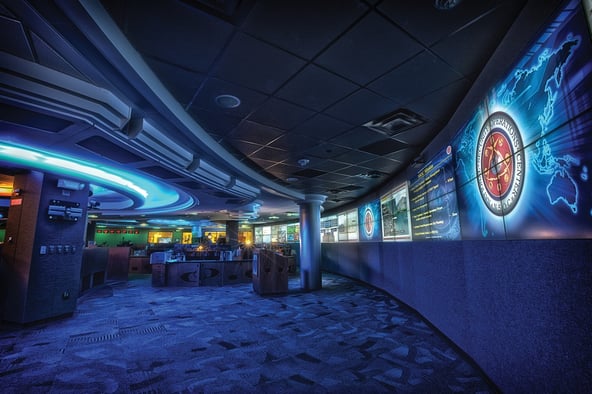 SOC Drivers
Whether starting from scratch or improving an existing SOC, the challenge is staying ahead of today's and tomorrow's threats as cyber criminals constantly increase the pace, volume and sophistication of their attacks.
Consider that data breaches and Distributed Denial of Service (DDoS) attacks are breaking records while IoT devices rise to the top of attack target hit lists. For teams, this creates a never-ending struggle to keep up with alerts, many of which turn out to be false alarms.
Complicating matters is the security talent shortage. Many organizations don't have the talent available to address the dynamic threat landscape. IT staff who are tasked with handling security often lack proper training, are spread too thin across job duties, and may have limited visibility into the overall cybersecurity architecture.
Building a SOC With People, Process and Technology
To build a successful SOC, organizations need to invest in three things: People, Process and Technology.
People: Just as your employees are the frontline of your organization's security, the team running your SOC is its core piece. This group of people will be tasked with making security-related decisions that will impact every facet of business. This requires them to have regular contact with business leaders to ensure synergy between day-to-day business operations and security operations.
Process: Having a consistent, well-defined and regularly-tested process sets up the SOC for peak efficiency and effectiveness. Before the SOC is fully operational, the process should be in place to define goals, specific SOC functions and the responsibilities of individuals. Your process needs to clearly specify guidelines for addressing vital tasks such as compliance monitoring, incident reporting and identification of threat actors.
Technology: Security technology is crucial to protecting data, detecting threats and alerting teams to respond. The nucleus of the SOC security technology architecture is the Security Incident and Event Management (SIEM) system. The SIEM collects, correlates and analyzes event data and contextual information from the security appliances that feed into it such as firewalls, IPS (intrusion prevention system), web and email protection tools, IdM (identity management) systems and others. But the tools' protective capabilities are not the only factor driving SOC effectiveness. On distributed threat landscapes, security technology needs to function as part of an adaptive, collaborative architecture that automates the sharing of threat intelligence and centrally coordinates threat response.
At Resilient, we recommend building these holistic security frameworks on the Fortinet security fabric. Designed with open APIs, it seamlessly integrates security monitoring and management tools across endpoints, the access layer, applications, networks, data centers and the cloud on a single, centrally-managed platform. Combined with FortiSIEM (Fortinet's SIEM solution), the security fabric delivers the adaptive visibility, control and analysis needed to power a successful SOC.
A partner of Fortinet, Resilient can help you enhance your company's SOC or deliver it as a managed security service. Download this white paper or contact us to learn more about our best-of-breed approach.