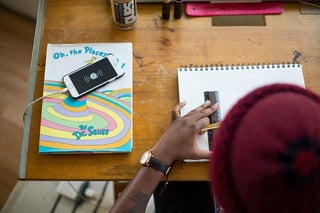 What does it take for today's schools to get a passing grade in cybersecurity? For starters, education IT managers must secure school networks and high-value data. Keeping networks secure—and bad actors away from data—is getting more challenging by the day, thanks in part to the ever-changing threat landscape.
The "new normal" in education is technology in the classroom. The demand for more connectedness drives expansion in the global education market, which is predicted to grow by 17 percent every year, reaching up to $252 billion by 2020.
This technology explosion puts new demands on school networks; even elementary schools integrate Chromebooks and other devices into everyday learning. Compounding the problem is the fact that more students bring their own, unsecured devices to school—as many as 72 percent of students connect at least two devices to school networks.
The latest threat? Ransomware. One study identified education as the No. 1 target for ransomware attacks. Thankfully, protection is possible. Here are two surefire ways to know if your cybersecurity approach is making the grade:
#1. You've Established Trust
With small IT teams, limited budgets and a growing number of devices and users connecting to the network, schools must rethink their approach to keeping their data and their reputation protected.
Academic institutions need to look at the user-network relationship from the standpoint of trust. Students and teachers trust that their information and communications won't be compromised, and they entrust the network with personal and sensitive information. This trust is imperative in an academic environment. Without it, collaboration is stifled. This requires a cybersecurity strategy that enables school districts to:
Achieve visibility across the entire network environment both virtual and physical
Manage and protect an array of on-premise and mobile data sources and devices
Secure student and educator access to school resources via the cloud
Track and secure applications and devices with performance analytics
#2. You've Simplified Your Approach
User-based policies are becoming important in this environment. At the same time, IT managers need ways to rapidly respond to threats in real time, while quickly identifying the source of attacks. That's why schools are turning to SIEM (Security Information and Event Management) to correlate threat intelligence and log data from the various security tools that integrate with it. When functioning as a component of a collaborative, end-to-end security architecture (like Fortinet's security fabric, for example), SIEM platforms not only deliver real-time visibility of traffic across complex networks but also help expedite defense and mitigation actions. By integrating firewalls (perimeter-based, internal segmentation, web application), endpoint protection, IPS/DPS, SIEM, big data-generated threat intelligence and other solutions, a unified security infrastructure maximizes protection by:
Consolidating cybersecurity management to one pane of glass
Providing schools the ability to create policies on the fly
Performing investigations based on users rather than IP addresses
Operating with a large number of rules while providing inter-contextual data
Schools need a cybersecurity platform that can not only detect unauthorized applications and devices but also monitor and detect unusual behavior as well as respond automatically to security events. FortiSIEM from Fortinet offers these capabilities with a scalable, comprehensiveness and holistic approach that addresses the unique cybersecurity challenges that schools face.
As a Fortinet partner, Resilient Intelligent Networks helps education customers find the security approach that works best for their open environments. Contact us to see how we can help your educational institution or school district to implement a cybersecurity solution aligned with today's complex networks.